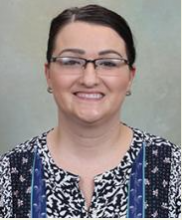 Misty Boggs, BS
Program Manager
Center for Rural and Community Health
West Virginia School of Osteopathic Medicine
400 Lee Street N A218
Lewisburg, WV 24901
Office: 304-647-6244 • Fax: 304-793-6586
A native West Virginian, Misty moved out of state to attend college. After graduating with a bachelor's degree in criminal justice, she accepted a job in law enforcement where she embodied the highest professional standards for over a decade. During her law enforcement career, she gained substantial knowledge in a broad range of interests, including criminology, criminal justice, courts/judicial systems, public safety, corrections, crime prevention, juvenile justice, emergency response, policy and program development, community awareness, leadership, strong initiative, conflict resolution, mental agility and adaptability.

In her current role as a program manager, she is responsible for the overall development and management of a grant-funded program that serves more than 200 seniors and adults with disabilities in a two-county region. Her responsibilities include the implementation of information technology and communication systems to facilitate workflow, fiscal oversight, and coordination of program activities.

Her passion in life is to serve her community and to make life better for her neighbors in her home state of West Virginia.

Education:



Currently pursuing a Master of Education, American College of Education

Bachelor of Science in Criminal Justice with a concentration in Criminal Justice, ECPI College of Technology, Virginia Beach, Virginia

Associate of Applied Science in Computer and Information Science with a major in Criminal Justice, ECPI College of Technology, Roanoke, Virginia

Training/Certificates:
Master Trainer, Chronic Pain Self-Management
Community Health Education Resource Person, Level 1
Train the trainer, Naloxone Administration
Field Training Officer

Crisis Intervention
Emergency Response
Affiliations:
Greenbrier County Health Alliance, Member
The West Virginia Clinical and Translational Science Institute, Member
West Virginia Bureau for Public Health- Threat Preparedness, Member
National Institute of Justice, Member
Virginia Sheriff's Association, Member