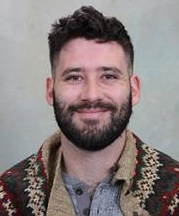 Julian Levine, MSW, BS
Clingman Center Outreach Director
Greenbrier County Health Alliance
Center for Rural and Community Health
West Virginia School of Osteopathic Medicine
400 Lee Street N A218
Lewisburg, WV 24901
Education/Training:
MSW, Virginia Commonwealth University, Richmond, Virginia, Master of Social Work with a concentration in Clinical Social Work
BS, Shepherd University, Shepherdstown, West Virginia, Bachelor of Science in Political Science with a focus on Quantitative Research Methods
Research and Practice Interests:
Julian is interested in practical applications of public health and social determinants of health research and how to translate research to reduce health disparities, especially for rural and underserved communities. Julian has a range of experience in project management, program evaluation and development, research analysis and methods, academic writing, and evidencebased policy and practice. He has worked in the diverse settings of free-and-charitable healthcare, academia, social services, disaster response, and community development.
Honors:
VCU School of Social Work Leadership and Service Award, 2018
Phi Kappa Phi Induction, 2018
VCU School of Social Work MSW Program Committee, 2018
VCU School of Social Work Academic Program Committee, 2018
Shepherd University
- Graduated with Honors, Cum Laude, 2009
- Pi Sigma Alpha Induction, 2009
- Harry Klug Memorial Scholarship, 2009
- WV Promise Scholarship, 2005-2009
Selected Scholarly Activity and Invited Presentations:​​​​​​​
SYNC: Transforming Healthcare Leadership, Medical Society of Virginia, Virginia Department of Health SYNC program, presentation on interprofessional collaborative social determinants of health project (2019)
Education then Advocate: Food Access, Virginia Commonwealth University Inter-Health Professionals Student Alliance serial lecture series (2019)
Innovative Therapies to Address Common Disease States, Virginia Association of Free Clinics Annual Conference, panel presentation to discuss food-as-medicine programs for addressing common metabolic health conditions.
Member of VCU School of Social Work Promotion and Tenure committee (2017)
Affiliations:
Greater Greenbrier Long Term Recovery Committee, Board Member